A tool on the Weather Guard website allows fleets customers to design the ideal work van, fitted with the right combination of storage solutions to meet the job. The Van Configurator allows the company to keep the contents updated with the newest vehicles and storage solutions to choose from.
The configurator uses DriveWorks software and was built by an in-house development team at Weather Guard with the assistance of Computer Aided Technology (formerly Fisher Unitech), a product development solutions provider based in Buffalo Grove, Ill.
Aaron Winthers, a senior PLM consultant for DriveWork and design automation specialist for Computer Aided Technology, worked with the company to develop a three-dimensional configurator that allows the customer to look at their van model of choice and click and place van shelving, a bulk head, and a roof rack into the vehicle.
One of the biggest benefits for the fleet manager, Winthers noted, is the ability to build out the exact vehicle needed and get an estimate quickly. He pointed to Tesla, which offers a similar online experience for customers interested in designing the type of vehicle they want and getting an instant estimate on cost and delivery time.
"Instead of having to go down to the car dealer and basically manually configure a vehicle by walking around a lot and seeing what you want, you can hop online and you can actually configure yourself a Tesla and have it shipped," he said. "A customer can configure the very vehicle that they're looking for, and how they want it to be outfitted. And they don't have to have an engineering degree to do it."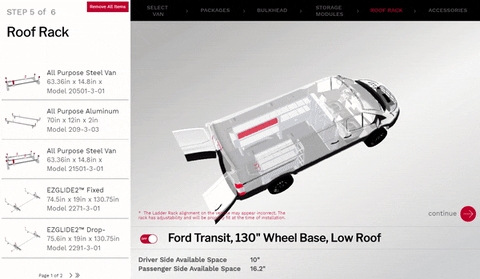 Moving the Industry Forward with Automation
Before implementing the system in summer 2019, Weather Guard already had a configurator in place – but it was a standalone offering, not linked to the database. Anytime they introduced a new product, a software developer would have to go back into the system and add the update.The DriveWorks configurator is linked to the company's enterprise resource planning (ERP) database, so when a new product or vehicle is added to the database, it becomes available on the van configurator. And when a customer is finished building their desired product and is ready to move on to the next step, Weather Guard and a Weather Guard distributor are notified automatically.
"They get an email the second the customer says, 'I want this particular configuration of the van,'" Winthers said. "Process automation is good on many levels because it saves time. And then ultimately, it helps you generate more business and have more satisfied employees who are not doing repeatable things, they're actually able to focus on new product development."
Winthers noted that automation is becoming more widespread and seamless, from the creation of a product, to design, to manufacturing.
This kind of configurator enhances customer experience, and more companies are taking notice. Winthers said more and more companies have shown interest in systems like the van configurator.
"What's happening is upfitters are starting to get the picture that if you want to be able to generate revenue, you need to offer the option for your clientele, to configure it themselves, and be able to get some kind of word back in a very short amount of time."